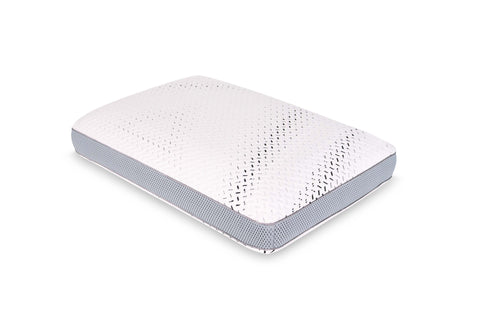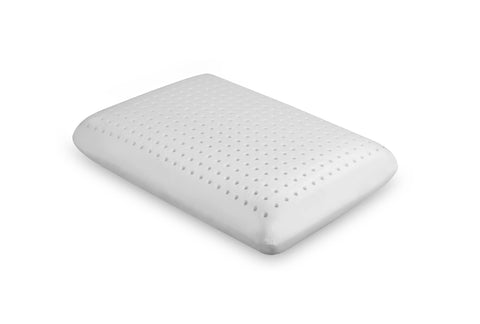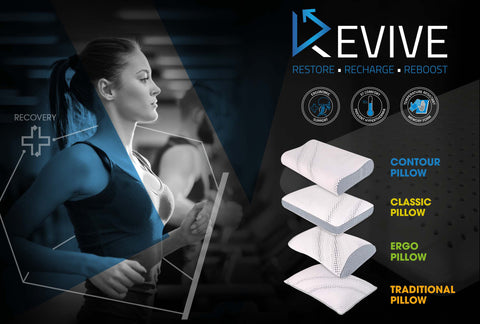 Revive Classic Pillow
Product Dimension : W60cm x L40cm x H14cm
This Product Valid for Free Shipping Nationwide*
Approx.
$2.60
per week on 12 months interest free with
or 4 interest free payments of
$33.80
fortnightly with
Revive™ Classic Pillow offers advance engineering that molds to the shape of your head and neck perfectly, allowing the muscles to fully relax as you sleep. The unique anatomical Air Feel™ memory foam provides substantial air flow and constant feeling in different climate.

Cover: Cooling Fabric 450GSM - Washable Cover
Dimensions: W60cm x L40cm x H14cm
Origin: Import from Malaysia
Material: Memory Foam
 BOUNCE TECH
Bounce tech memory foam supports your body and react to forces differently compare to the ordinary memory foam, it deforming into all three directions, this latex like memory foam respond itself to the individual physical structure and created for individuals who like the pressure-relieving properties of memory foam, but do not like the body-conforming, sinking in feeling.
 SURFACE COOL FABRIC
The Surface Cool removable cover promotes airflow which will provide a cool to the touch feel, refreshing perk bedtime. The phase Change Technology alleviates excess heat from the head and neck and is dissipated away from the pillow and mattress surface providing a comfortable and Zen-like rest experience.
Disclaimer
All pictures shown are for illustration purpose only. Actual product may vary due to product enhancement.
Shipping Information
Unless stated otherwise, all our in-stock orders are dispatched from our warehouse within 3-5 business days. The transit time for your order to arrive at your home depends on where you live. (It is an estimate, might be delayed due to peak season of the delivery company)
5-15 Working-days for North Island.
7-17 Working-days for South Island
In-store pick up: Free
Delivery fees:
- Wellington - $90
- Auckland - $120
- Canterbury - $160
- Hawke's Bay - $150
- Marlborough - $180
- Northland - $200
- Southland - $220
- Waikato - $150
- West Coast - $200
- Bay of Plenty - $150
- Gisborne - $150
- Manawatu-Wanganui - $130
- Nelson - $180
- Otago - $200
- Taranaki - $150
- Waiheke Island - $250
Wood Appearance
Wood it will have it's own imperfections such as cracked knots, slightly different shading of the wood, small cracks and variations in the grain. Every piece is hand made, so no two items will ever look identical.
It may appear some "Slipknot", "Black Line", "Color Shading", "Brindle", "Shade", and "Imprinting".