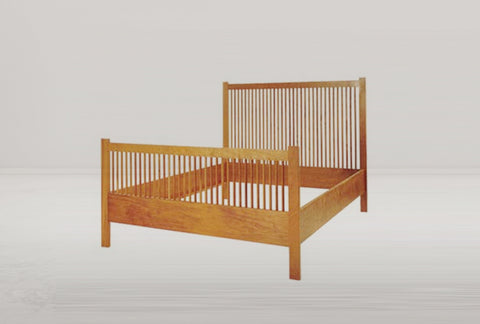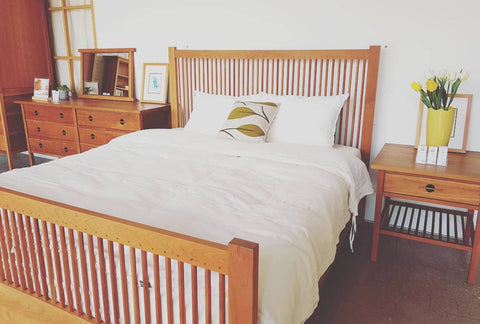 J20 Spindle Queen Bed Frame
Product Dimension : W1176cm D204cm H106cm
Approx.
$54.01
per week on 12 months interest free with
or 4 interest free payments of
$702.25
fortnightly with
J1 Series Furnishings
In the spring of 1992, I began designing the J1 Series Furnishings. My objective was to reduce each furnishing to three basic design elements: frame; container; and surface. By removing the sides and backs of traditional furniture; exposing the structural frames; and creating drawers that can pull open on two sides, a uniquely simple line of furniture emerged with its own identity. In recognition of these innovative concepts the J1 Series Furnishings have received favorable attention from around the world, and have been acknowledged by design editors and critics with several awards. All frames are constructed using mortise and tenon joinery, and a wood-on-wood drawer slide design. All spindles are octagonal and are pegged on their ends with walnut. All drawers are assembled using lap joints, and pegged with walnut dowels for strength; and all drawer pulls are made by boring a hole through the drawer front, and inlaying a walnut pull horizontally across its middle. Three coats of matte lacquer and one coat of finishing wax provide a sturdy, non-toxic finish that penetrates deep into the cherry. This layering of finishes allows the furnishings to develop a natural patina over time through exposure to air and sunlight.
Material: Solid Cherrywood
Dimensions:

W1176cm D204cm H106cm

Origin: Import from Malaysia
Assembled:

 

Fully Assembled
Disclaimer
All pictures shown are for illustration purpose only. Actual product may vary due to product enhancement.
Shipping Information
Unless stated otherwise, all our in-stock orders are dispatched from our warehouse within 3-5 business days. The transit time for your order to arrive at your home depends on where you live. (It is an estimate, might be delayed due to peak season of the delivery company)
5-15 Working-days for North Island.
7-17 Working-days for South Island
In-store pick up: Free
Delivery fees:
- Wellington - $90
- Auckland - $120
- Canterbury - $160
- Hawke's Bay - $150
- Marlborough - $180
- Northland - $200
- Southland - $220
- Waikato - $150
- West Coast - $200
- Bay of Plenty - $150
- Gisborne - $150
- Manawatu-Wanganui - $130
- Nelson - $180
- Otago - $200
- Taranaki - $150
- Waiheke Island - $250
Wood Appearance
Wood it will have it's own imperfections such as cracked knots, slightly different shading of the wood, small cracks and variations in the grain. Every piece is hand made, so no two items will ever look identical.
It may appear some "Slipknot", "Black Line", "Color Shading", "Brindle", "Shade", and "Imprinting".