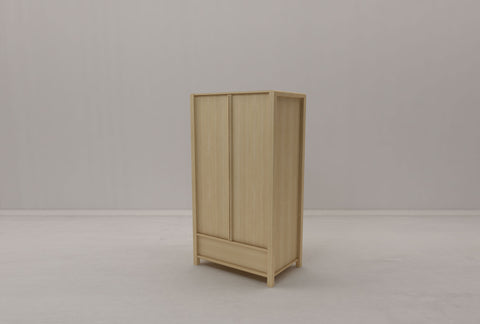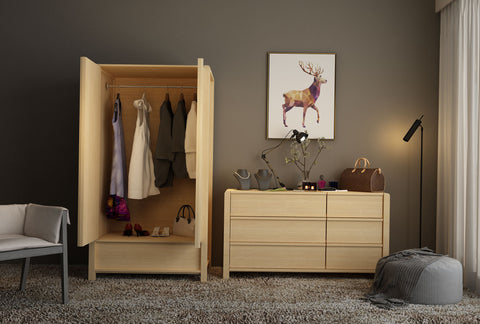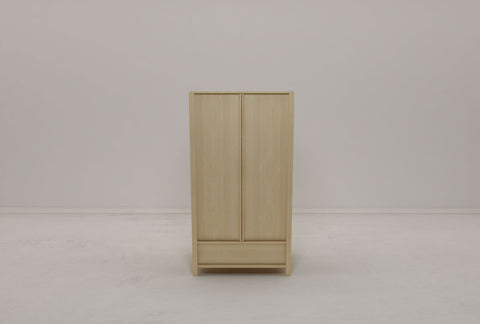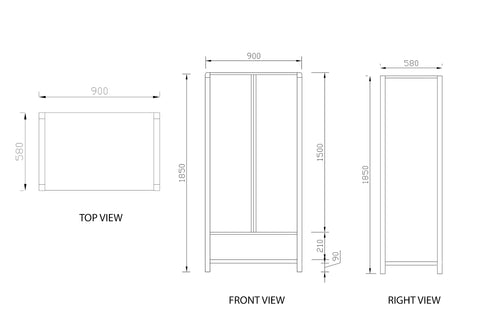 Koeler 2 Door & 1 Drawer Wardrobe
Product Dimension : W90cm x D58cm x H185cm
Approx.
$33.44
per week on 12 months interest free with
or 4 interest free payments of
$434.75
fortnightly with
With a wonderfully natural feel and an understated design, the Koeler wardrobe takes its lead from sleek Scandinavian style.
Made from solid oak and veneers, this piece features two hinged doors and a single drawer with discreet handles for a streamlined shape. Inside a spacious interior with hanging rail offers storage for clothes and shoes. Its tactile natural oak finish lends itself to a variety of interior settings, be they classic or contemporary.
Material: Solid oak & oak veneers
Dimensions: W90cm x D58cm x H185cm
Origin: Import from Malaysia
Assembled:

Assembly Required (Flat Pack)

Displayed item (Fully Assembled)
Disclaimer
All pictures shown are for illustration purpose only. Actual product may vary due to product enhancement.
Shipping Information
Unless stated otherwise, all our in-stock orders are dispatched from our warehouse within 3-5 business days. The transit time for your order to arrive at your home depends on where you live. (It is an estimate, might be delayed due to peak season of the delivery company)
5-15 Working-days for North Island.
7-17 Working-days for South Island
In-store pick up: Free
Delivery fees:
- Wellington - $90
- Auckland - $120
- Canterbury - $160
- Hawke's Bay - $150
- Marlborough - $180
- Northland - $200
- Southland - $220
- Waikato - $150
- West Coast - $200
- Bay of Plenty - $150
- Gisborne - $150
- Manawatu-Wanganui - $130
- Nelson - $180
- Otago - $200
- Taranaki - $150
- Waiheke Island - $250
Wood Appearance
Wood it will have it's own imperfections such as cracked knots, slightly different shading of the wood, small cracks and variations in the grain. Every piece is hand made, so no two items will ever look identical.
It may appear some "Slipknot", "Black Line", "Color Shading", "Brindle", "Shade", and "Imprinting".